Friday the 13th of June, 2003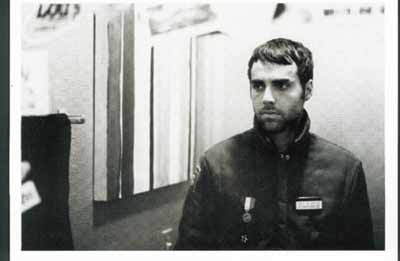 WHO:
Derrick Brown, accomplished poet and author of "If Lovin' You is Wrong, Then I Don't Wanna Be Wrong." won the California Independent Book Critics Award in 2002.
WHERE:
At THE San Diego SLAM!
WHAT:
Derrick Brown will be pushing the envelope of poetry by creating a bizarre and hysterical moving poetic experience.
HOW:
Brown will read excerpts from his latest book with the accompaniment of beat machines, keyboards, traditional cutting and scratching, and effects. Concluding the performance Brown will sign his book posters as well as his book.
Biography:
Derrick Brown, former paratrooper, gondolier, columnist, weatherman and violent romantic has stepped into the ring to reclaim poetry from the literati. Brown, a 2nd place winner of the U.S. Poetry slam just released "If Lovin'You is Wrong, Then I Don't Wanna Be Wrong," a hilarious and heartbreaking collection of his work. Brown has toured internationally and has garnered a strong reputation for his shows that are as amazingly naked, brilliant and sincere as they are on the page. His lines sting ("I am the space between a boot and a land mine", "I am worn like the steps to a children's mortuary,") they offer hope (³It's not that I wait for you, it's that my arms are doors I cannot close²) scintillating, ("save your yelling for sex and riots.")
What people Are Saying About Derrick Brown:
³Derrick Brown's work-both vibrant on and off the page- sizzles with jolting images and blasts of humor, yet retains a deep compassion at it's core. He has a heart the size of a Mack truck, but we're not sure who's behind the wheel.² -Jeffrey McDaniel, author of ³The Forgiveness Parade.²

³Sincere, twisted and violently romantic. One of the best poets in Southern California.² -OC Weekly

³Read Derrick Brown and then go fly kites with people in the park. He may get in your head and rearrange your slang. Beware.² - Aimee Bender, author of ³The Girl In The Flammable Skirt.²

³I love his work. It transcends my forced metaphors. It haunts me like 'simile here.' - Beau Sia, author of ³A Night Without Armor Two² and ³The Revenge.²

³Derrick summons up an experience reminiscent of radio theatre at it's most engaging moments.² -Next Magazine

³Derrick is bizarre and funny.² - Chuck Woolery, ³The Dating Game² said while Brown shook his hand after losing.
---
Home.