Claire de Lune: Tuesday the 3rd of Aug, 2004
Open reading sign-ups at 7 pm, Feature at 8.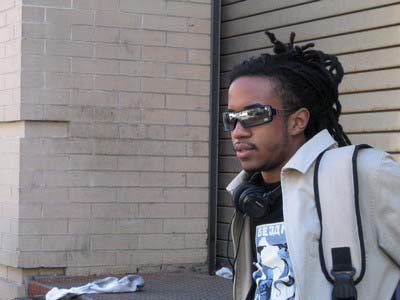 San Diego's Jennifer Joseph reports:
Toney Jackson is the best-kept poetry secret on the East coast, soon to be a national phenomenon. If not, I owe you a dollar. (Yes, really!)

With a B.A. in Fine Arts from Rutgers University in 2003, Toney Jackson is a skilled and passionate performer in several genres, as well as an accomplished writer. Recognized at age 21 by the Academy of American Poets in 2003 for his poem "One Love Story". Toney performs at venues all over the east coast. Whatever the biggest prize at any Poetry Slam, Toney walks away with it. This kid makes it look ever so easy to ace slams and leave full houses utterly breathless and speechless until they recover from their stupor with roars of applause.

Toney seeks to connect with and open dialogue between any willing to listen. He has also performed at many rallies/demonstrations for social causes. One fourth of the group Mayhem Poets. The Mayhem Poets are Ambassadors of Inspiration; drawing on a wealth of knowledge and experiences to share with all who are willing to listen, especially for the younger generations. They have a wonderful dynamic with all of the kids and teachers alike. They are currently performing and leading workshops with children and schools in cities all over the country.

Performing as Zach Lost, Toney is also a member of the underground Hip Hop duo Thought Breakers. The two MCs have been collaborating since '01, and have a vibe and chemistry to which crowds and critics rave about. In a time where Hip Hop has gone from innovative sub-cultural movement to mainstream trend/advertisement for negativity; it is refreshing to find MCs that can keep heads nodding and drop socially relevant lyrics at the same time.

Toney seeks to always inspire more questions than he ever may attempt to answer. This kid is from another planet. The best words and thoughts to hit the page and stage since… geez… Shakespeare, Langston, Ginsberg, Saul, Ani, Lauryn, Amiri Baraka, . The list goes on. You get the idea. And he's just 23. Like I said, a dollar apiece if he's not a household name in 5 years.

Toney seeks to always inspire more questions than he ever may attempt to answer. He strongly believes that "we can change the world by letting those behind us know that they can change the world by letting those behind them know that they can change the world… all we have to do is do it".

"I love words", says a very humble Tone.

Trust me, baby, it shows.
---
back.